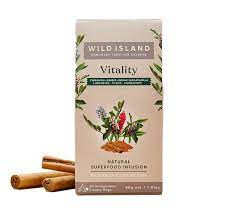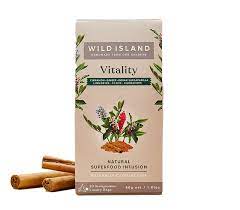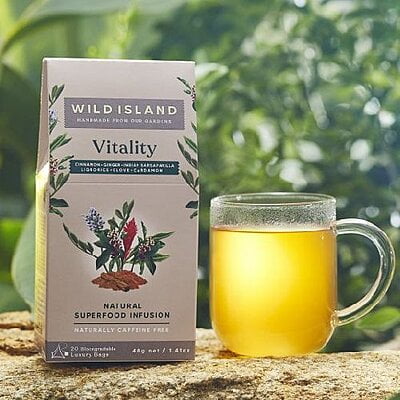 Vitality – Natural Superfood Infusion
WILD ISLAND LEAF TBAG 020/2.0g/06 CINNAMON WITH GINGER, LIQUORICE, CARDAMOM & CLOVE-VITALITY
100% NATURAL
Vitality – Natural Superfood Infusion
The aroma of a profusion of island spices yields a bright, piquant infusion. Ceylon Cinnamon defines the inspiring, natural brew with its woody sweetness, warmed by ginger, and balanced by a deliciously complex combination of Cardamom & Clove. The gentle, natural sweetness in Cinnamon, Cardamom and Clove enhances the blend, leaving the palate enlivened with the goodness in some of our finest herbs and spices.
Benefits
Ceylon Cinnamon has anti-inflammatory properties, Sri Lankan Ginger has antioxidant properties, Sri Lankan Cardamom helps digestion and can improve blood circulation, Sri Lankan Clove can improve neurological problems. All our superfood herbs and spices are ethically and sustainably sourced from the wild gardens of Sri Lankan communities.
Format
20 Biodegradable Luxury Tea Bags with Sri Lankan Superfood Spices and Herbs

Brew natural infusion for 3 - 5 minutes in 220ml freshly boiled spring water. Best enjoyed without milk.